Our classes are given in Calender Quarters:
January until March (1st Quarter 2020)
April until June (2nd Quarter 2020)
July until September (3rd Quarter 2020)
October until December (4th Quarter 2020)
Important Notice (3/14/20):
Due to the CORONAVIRUS, the Benson Center 2nd Quarter Classes and Registration are postponed until further notice.
You can also view or download a pdf copy of our 2nd Quarter 2020 Class Schedule (revised 3/11/20) here: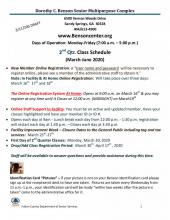 Did you know that your membership application has to be updated once a year?
If you don't know when your application expires, please check with the administrative office for this information.
Remember a current form of information is identification confirming your identification and residency will be required to register for classes.
The Galleries of Classes that we show below are a DRAFT and may be subject to correction.
If you see any error(s), please let us know.