Our classes are given in Calender Quarters:
January until March (1st Quarter 2022)
April until June (2nd Quarter 2022)
July until September (3rd Quarter 2022)
October until December (4th Quarter 2022), classes from October 3 to December 9, 2022)
View, download and or print a pdf copy of our 4th Quarter Class Schedule below: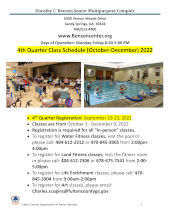 4th Quarter 2022 Class Schedule
Please note that:
4th Quarter Registration: September 19-23, 2022
Classes are from October 3 - December 9, 2022
Registration is required for all "in-person" classes.
To register for Water Fitness classes, visit the pool or please call: 404-612-2312 or 470-845-3905 from 2:00pm-4:00pm
To register for Land Fitness classes, visit the fitness room or please call: 404-612-2306 or 678-675-7541 from 2:00-5:00pm
To register for Life Enrichment classes, please call: 470-845-3904 from 9:00am-2:00pm
To register for Art classes, please email: Charles.scogins@fultoncountyga.gov
Futon County SENIOR VIRTUAL CLASSES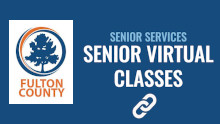 In addition to the On Site classes shown below, Fulton County offers Residents 55 years-old and older free online classes, Monday through Friday at various hours. Most classes are about 30 minutes and cover topics including fitness, art, life enrichment, nutrition and computers.
Press image above to go to the Fulton County Senior Virtual Classes webpage.