AARP TAX-AIDE FOR TAX YEAR 2022
AARP Tax-Aide is returning to Dorothy Benson Center for Tax Year 2022.
AARP volunteers will be available to prepare tax returns for free each Monday and Wednesday beginning Wednesday February 1 and ending Wednesday April 12 (excluding Monday February 20 when the Benson Center is closed).
Hours are 10AM to 2PM.
You can call 404-613-4900 to sign up starting January 25, 2023.
This year AARP is going to try two new approaches:
Taxpayers should pick up an intake sheet and fill it out COMPLETELY before they come in for tax preparation.
If you are unsure of any answer, put a question mark by the question. Intake sheets are available upon request at the front desk.  
While AARP will continue to welcome walk-ins, they are also going to schedule a limited number of appointments up to two weeks in advance.
Taxpayers with appointments (and who have completed the intake sheet beforehand and who have all their required tax information and ID's for their family) will receive priority over walk-ins.
Taxpayers who know they have more than one tax return to prepare should make separate appointments for each return.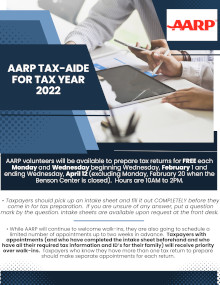 View, read, print and/or download our AARP TAX-AIDE FOR TAX YEAR 2022 flyer here.
Schedule:
Repeats every week every Monday and every Wednesday until Wed Apr 12 2023 except Mon Feb 20 2023.