Facility Program Operating Days & Hours:
Days: Monday - Friday
Hours: 9:00am to 4:00pm
Sign up for Limited Capacity Onsite Classes.
Participants may call or stop by to sign up for facility onsite 2nd Quarter Classes.
Please see attachments for class registration/signup and the numbers you should call.
No Registration is required for Ongoing Virtual Classes
Sign-up/Registration is required for Onsite Classes
See 2 pdf below for list of Classes

2nd Quarter 2022 Health and Wellness Schedule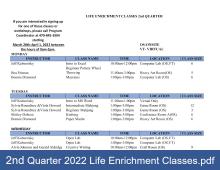 2nd Quarter 2022 Life Enrichment Classes
We are closed on Memorial Day - Monday May 30.