New Member Online Registration: a User name and Password will be necessary to register online, please see a member of the administrative staff to obtain it.
4th Quarter Class Schedule 2019 (Oct - Dec)
You can also view or download a pdf copy of our 4th Quarter 2019 Class Schedule (revised 9/12/19) here: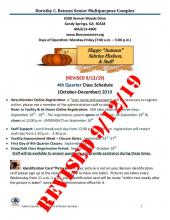 You can also view our 4th Quarter Classes on this webpage: 4th Quarter 2019 Classes.
Benson Fall Class Registration Dates & Times
September 16 - 18, 2019
This three day process will include both "Home & In-Facility" Registration.
The registration system opens at 9:00am on Monday September 16th and closes at midnight Wednesday September18th.
Need help registering?
We have "IN FACILITY" Registration with "Staff Support."
Starts Monday, September 16th at 9:00am an ends Wednesday, September 18th at 3:30 pm:
Morning support from 9:00am to 12:00pm
Lunch break 12:00 to 1:30pm
Afternoon support 1:00 to 3:30pm
The is a "Drop/Add" Class Registration Period from September 30th to October 18th.
Staff will be available to answer questions, and provide assistance during these times.
Benson Registration Process
View and/or download the Benson Center 4th Quarter 2019 CLASS REGISTRATION PROCESS/INSTRUCTIONS here:

Benson Center Class Registration Guidelines
View and/or download the BENSON CLASS REGISTRATION GUIDELINES here: