Benson Facility Rental
Have Your Next Banquet, Meeting, Wedding or Function at the Benson Center
Set upon 9 acres of land in a private club type atmosphere, the Benson Center is the place to hold your next important function. The Benson Center is located downtown in the heart of Sandy Springs on Vernon Woods Drive just off Roswell Road and is conveniently accessible from all directions.
The Center features a 5,400 square foot dining hall and a spacious Lobby and is available for a variety of social functions such as Weddings, Corporate meetings, Parties, Anniversaries, Music and Dance recitals, etc.
The Center offers its dining hall, lobby and gazebo on Friday nights, Saturdays and Sundays.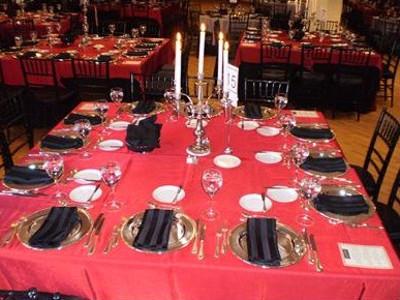 Features include:
Hardwood floors with raised stage capable of holding a 16 piece orchestra
Motorized Projector Screen
Catering Kitchen
168 Seated with tables and a dance
353 Standing only
118 Parking spaces, including 12 handicap spaces van accessible
A circular protected drive to the lobby for easy drop off and pick up
An outside Gazebo and grounds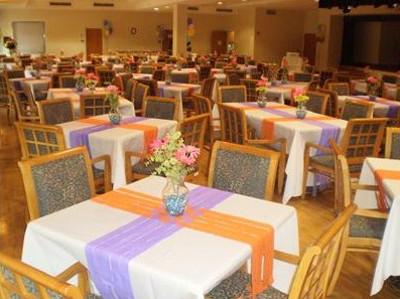 Rental Rates
The rental fee is $975 for a private citizen or corporation residing within Fulton County.
The rental fee for a non-profit organization is $600 residing within Fulton County.
The rental fee for those residing outside of Fulton County is $1,650 and $1,150 for a non-profit agency respectively.
A refundable deposit of $300 is required and a non-refundable Administrative fee of $50 is charged.
Rates are for the period of time between the hours of 6:00pm-12:00 midnight on Friday and no more than an 8 hour period between 9:00am-12:00 midnight on Saturday and Sunday and must include set up and breakdown time.
There will be a $100/hour charge for each hour in excess of the initial 8 hour period of time not to exceed midnight.
Provided in the fee are:
A Security Guard for the duration of the rental
An Event Coordinator for the duration of the event
Porter Staff for light clean-up duty after the event
Use of a catering kitchen
For more information & reservations contact:
Rental Coordinator
404-613-4900