Our classes are given in Calender Quarters:
January until March (1st Quarter 2019)
April until June (2nd Quarter 2019)
July until September (3rd Quarter 2019)
October until December (4th Quarter 2019), 1st day of class is Monday, September 30th, 2019
You can also view or download a pdf copy of our 4th Quarter 2019 Class Schedule (revised 9/12/19) here: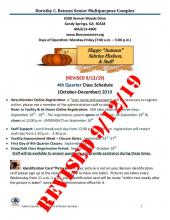 Did you know that your membership application has to be updated once a year?
If you don't know when your application expires, please check with the administrative office for this information.
Remember a current form of information is identification confirming your identification and residency will be required to register for classes.
The Galleries of Classes that we show below are a DRAFT and may be subject to correction.
If you see any error(s), please let us know.