Our classes are given in Calender Quarters:
January until March (1st Quarter 2023)
April until June (2nd Quarter 2023)
July until September (3rd Quarter 2023)
October until December (4th Quarter 2023), classes from October 2 to December 8, 2022)
View, download and or print a pdf copy of our 4th Quarter Class Schedule below:


4th Quarter 2023 Class Schedule
Please note that:
4th Quarter Registration: September 18-22, 2023
Classes are from October 2 – December 15, 2023
You must be a member of a Fulton County Multipurpose Senior Center and registration is required for all in-person classes.
You have the option to register at home online or in-person only.
If you are NOT a registered member, you can enjoy meal services and any virtual programming.
Your membership must be renewed annually.
If your membership has expired, you need to have an appointment set to renew, to be able to participate in classes on-site.
Futon County SENIOR VIRTUAL CLASSES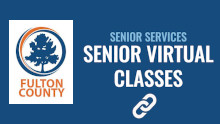 In addition to the On Site classes shown below, Fulton County offers Residents 55 years-old and older free online classes, Monday through Friday at various hours. Most classes are about 30 minutes and cover topics including fitness, art, life enrichment, nutrition and computers.
Press image above to go to the Fulton County Senior Virtual Classes webpage.