4th Quarter Registration: September 18-22, 2023
Registration begins 9/18 at 9AM and ends 9/22 at 11:59PM
Classes are from October 2 – December 8, 2023
You must be a member of a Fulton County Multipurpose Senior Center and registration is required for all in-person classes.
You have the option to register at home online or in-person only.
If you are NOT a registered member, you can enjoy meal services and any virtual programming.
Your membership must be renewed annually.
If your membership has expired, you must have an appointment set to renew to be able to participate in classes on-site.
Download a pdf copy of our 4th Quarter Schedule here: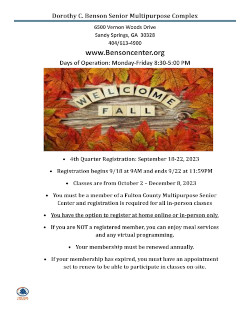 Schedule:
Repeats every day 5 times.