The Fresh MARTA Market is a farm stand that takes place in five MARTA stations.
The markets located at Bankhead, West End, Five Points, College Park, and H.E. Holmes MARTA Stations serve multiple areas with limited food access.
Each stand operates one-day per week, providing fresh produce to MARTA customers from Tuesday to Friday at a different station each day.
The goal is simple: help get healthy, fresh food into places where people already are.
Download the Fresh MARTA Market 2020 flyer: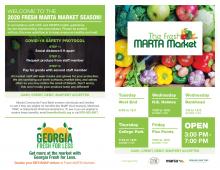 Fresh MARTA Market 2020
Read more on the MARTA website here: https://www.itsmarta.com/marta-market.aspx