How to Detect and Avoid Elder Fraud
Logon November 23rd 2022 at 1pm for a Virtual presentation hosted via Dorothy C. Benson Multipurpose Complex senior center featuring Fulton County Investigator K. Harris on the topic of elder exploitation awareness.
https://zoom.us/j/93929739843?from=addon
Central Intake for Adult Protective Services can be reached form Monday to Friday, 8am to 5pm, at 866-552-4464
Adult Protective Services (APS) is the state entity charged with investigating all reports of abuse, neglect, and/or exploitation of older persons (65+) or an adult (18+) with a disability who do not reside in long-term care facilities.
National Elder Fraud Hotline: 1-833-FRAUD-11, 1-833-372-8311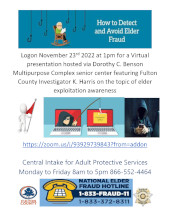 View a copy of our How to Detect and Avoid Elder Fraud flyer here.