The Benson Senior Center Presents a Line Dance Fall Showcase.
NOT A CONTEST, JUST FRIENDSHIP, FELLOWSHIP AND FUN!!!
Friday, November 15th, 1:30 PM – 4:00 PM
Dorothy C. Benson Senior Multipurpose Facility
6500 Vernon Woods Drive Atlanta, GA 30328
Door Prize Drawings and Give-aways.
Light refreshments will be served.
To register your line dance team contact Nicole Wyche at (404) 612-2306 by November 8th.
Download the flyer for this event here: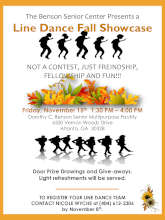 Location:
Multi Purpose Dining Hall