Everything you wanted to know about Social Security.
A FREE workshop from Social Security.
When are you eligible to receive retirement benefits?
How does early retirement affect your benefits?
Do you qualify for disability, survivors, and spouse benefits? 
How do you get the most from your benefit?
What is the future of Social Security?
When should you file for Medicare?
Learn how to use my Social Security online account and other online services.
You should go to www.socialsecurity.gov/myaccount to create a my Social Security account and print out your Social Security Statement before attending the workshop.
Speaker: Alicia Lipscomb - Public Affairs Specialist Georgia Area Director's Office, Social Security Office
Event Coordinator: Ronald MacAuley - Social Services Coordinator
Location: Dorothy C. Benson Multipurpose Facility Dining Hall and On Zoom
Zoom link: https://zoom.us/j/98213538735
Date: AUGUST 10th 2022
Time: 1:15 PM
 
See a copy of the event flyer here: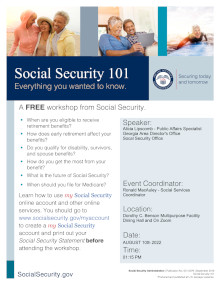 Location:
Multi Purpose Dining Hall
Virtual (Online)